Toll roads are defined as roads that the drivers must pay a fee for using them. Everyone loves convenience, especially when it means saving time and frustration. In the Greater Toronto Area, the 407 ETR is an amazing service available to commuters which its purpose is to ease congestion on other 400 series highways as well as make extra income for the province. Anyone who has ever driven on the 407 ETR can tell you that compared to the 401 or any other 400 series highways for that matter, it is a completely different experience. The potholes are very minimal, the traffic is almost nonexistent and I would say that the view is even nicer.
The 407 ETR is used by hundreds of thousands every day, but since it's a toll route it comes at a cost. In the end it comes down to how much your time is worth, as you know the expression, "time is money". For a relatively low price, traveling through the GTA is made simple, faster and less stressful.
History of the 407 ETR
The 407 ETR is the world's first all-electronic, barrier-free toll highway believe it or not. This means that there is no stopping at annoying toll booths, waiting in line and digging through the cup holder for change. You just breeze right through and the transponder takes care of the billing.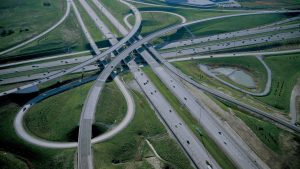 The need for a highway across the top of the Greater Toronto Area (GTA) was part of transportation planning as far back as the 1950s. As land was purchased for the highway, consideration of how best to build the roadway was studied by successive provincial governments and the necessary reviews and approvals were obtained
In June 1997, the central portion of the highway was opened and tolling of the world's first all-electronic, open-access toll highway began in October. At the time, the central portion of the highway was three lanes in each direction and spanned only 69 kilometres, from Highway 403 in Mississauga to Markham Road in Markham.
Today the 407 ETR has expanded to span 129.3 km from Oshawa to Burlington. From Brock Road to Oshawa has been provided for free since its completion last year but will start being tolled February 1 2017.
Using the 407 ETR
Using the 407 ETR is incredibly easy because it does not require the driver to do anything. Sensors and cameras either read the signal from the transponder and matches it with the licence plate. Alternatively, if you do not have a transponder a picture of your licence plate is taken when you enter the highway and again when you exit, the distance is calculated and a bill is sent to the owner of the car.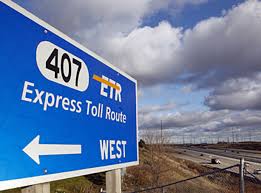 The Highway 407 ETR website provides a handy online calculator so you can see how much it will cost for your 407 ETR journey. Click Here To Calculate Your Trip
At Advantage Car Rentals we always tell our customers to make sure they consider all factors mentioned in this Blog before deciding to use a toll road in a rental car. If you think, the toll route is not an ideal option for you, to prevent driving on toll routes, you may use the "Avoid Toll Route" option in your navigation system or cellphone map app.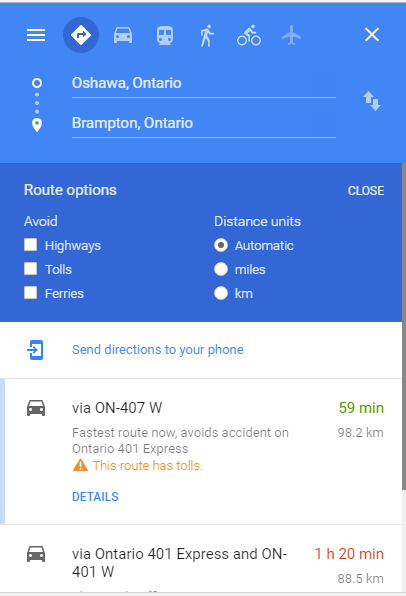 Are Car Rental Companies profiting from toll roads?
This is one of the questions that many customers who use car rentals in Toronto and use toll roads ask themselves. At Advantage Car Rentals, we believe this is a very valid question and as a reputable car and truck rental company in Canada we want to make sure not only to answer this question to our valued customers to the best of our ability but also work on creating better solutions that can help our customers to have options that can better suite their travelling needs.
Different car rental companies have various methods & fee structures for administrating the toll roads used by their renters. At Advantage Car Rentals we provide full disclosure to every one of our renters at the time of their rental pick up to make sure the renter is fully aware of the policies for using the 407 ETR with our rental vehicles.
It is fair to accept that car rental companies incur their own costs related to managing tolls and violations. Depending on the size of the fleet of the car rental company, there could be up to tens of thousands of toll road violations in a month. Even with something as simple as charging a renter for a toll, "there's time and labour involved".
Currently, Advantage applies an administration fee per rental agreement when a renter uses highway 407 ETR during their car rental period. We have started a project that can potentially help customers to use 407 ETR and not to pay as much for administration fees simply by reducing the administration time and effort. This requires incorporating more integrated technologies. Advantage Car & Truck Rentals approached 407 ETR in 2015 with an idea for having their technology to be enhanced so it can provide consumers to be able to see real time data reports. Unfortunately, this enhancement in their technology has not yet come to reality.
Since we at Advantage want the best solutions available for our customers, we have been working to implement a system where at the time of return of the rental vehicle the renter who has used 407 during their car rental period can be notified about the distance traveled on the toll road and the corresponding costs plus a minimal transaction fee. This eliminates the process of waiting for the billing cycle to reach and run multiple different reports in our car rental software and then incorporating them with our 407 ETR monthly statement and finally billing the customer for their usage.
Billing Info For The 407 ETR
If you have a transponder billing is easy, the sensors on the highway pick it up and a bill is sent to the owner. If you rent a car from Advantage Car and Truck Rental and choose to take the 407 ETR you will be charged for your usage of the highway in addition to a one time administrative fee. This means that if you rent a car for four days and use the highway six time you will only be charged the administrative fee once.
The fee the 407 ETR charges also varies depending on the size of the vehicle meaning a moving van will be charged more than a Ford Fusion. Keep this in mind if you are planning on renting a moving van to move from Richmond Hill to Mississauga, The Camera Charge set by the 407 ETR has been increased to $50.00 each time you use it so it is advised that any moving van or cube truck avoid the 407 ETR.
Survey
With the 407 ETR continuing to expand and talks of the Don Valley Parkway being turned into a toll route, how would you feel about the ability to pay for the toll road usage at the time of return of your vehicle with a very minimal transaction fee?