Toronto is the capital of its province, Ontario, and home to people from all around the world, making for a culturally diverse community. Decorated with a beautiful skyline and points of interest across the entire city, it begs the question, "How does one get around in Toronto – hailing a ride or renting your own?"
We're here to speak from both perspectives and help you make that decision.
Pricing
Kicking things off with pricing, on average, a taxi from the airport to Downtown costs roughly $80, whereas the per day cost for a rental car averages about $50. This means if you're looking to get to Downtown Toronto and travel just a few kilometres further, you're already saving money!
Reliability
Another aspect of commuting in a foreign city is safety, whether or not you feel safe in a taxi or you'd rather drive yourself around. More often than not, people tend to overlook the availability of taxis in the region they plan on visiting. By securing your own car, you don't need to worry about things like taxi availability, engine reliability or even charges you may have missed accounting for, like tipping your driver, toll charges, etc. Additionally, taxis may come with surge pricing, depending on the time of day. Renting your own car eliminates these disadvantages and leaves you stress-free.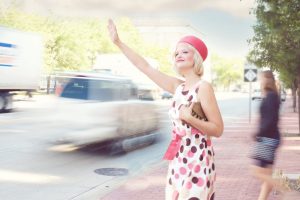 Convenience
With peace of mind and the reliability of your own car, driving yourself around can be quite pleasant. In fact, Toronto's grid layout and convenient navigation make commuting quite a breeze. And, if you already have a valid U.S. driver's license, an international driving permit isn't required. Taxis, on the other hand, are just as reliable in the city, but you must remember that taxi fares can escalate quickly, in and outside of the city.
Finding your feet in a new city can be quite daunting, and the best tips we can share are things we've learned living in our city. Rush hours are from 6:30 am to 8:30 am and 4:30 pm to 7 pm, and traffic can get absolutely ridiculous on roads like Highway 401, The Gardiner Expressway, and The Don Valley Parkway. Using a GPS system can help you beat the traffic and even ditch unexpected expenses like highway 407's electronic toll.
Proximity
More things to keep in mind when deciding between your own car and taxis are details specific to your trips, like whether your hotel/ accommodation has its own parking lot, whether or not they charge for parking, the walkability of your destinations, and other factors.
All in all, we believe that you'd be the best judge of whether a rental car is needed or hailing a cab is sufficient. We simply hope that our views will help make commuting in the city we call home just as enjoyable as the city itself! For more useful information on commuting in the city of Toronto, stay tuned to the Advantage Car and Truck Rentals "Discover with Us" blog.