Fall is almost upon us and that means it's time to plan your next driving holiday. When it comes to Canada fall season, we really are spoilt for choice! There are so many great places to go on a Canada road trip, and enjoy a vibrant scenery of red, yellow, brown and pink.
In this article we are looking at some places near and far for a driving holiday. If you are in Toronto, planning is as easy as tapping in 'car rentals near me' in your smartphone and finding the best car rental GTA has – us.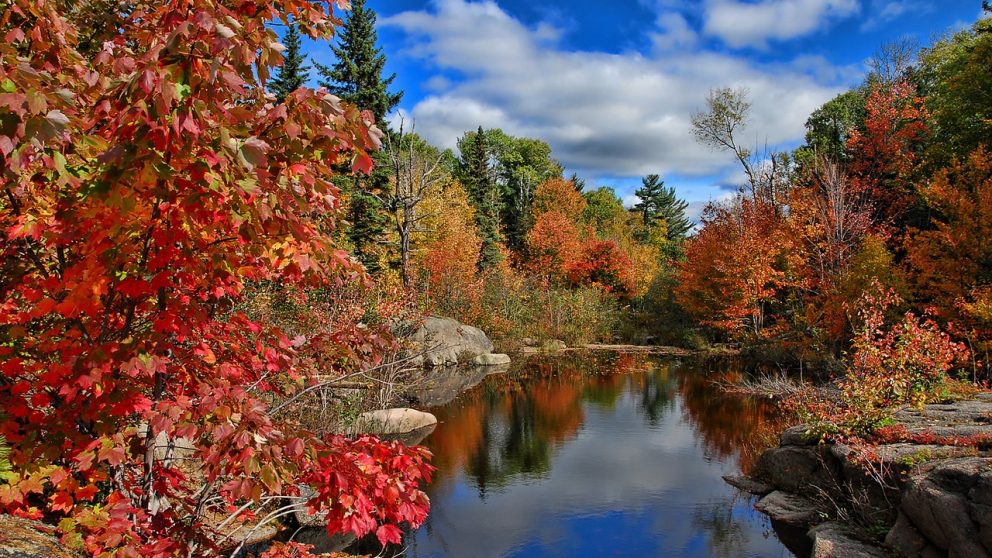 A clean reliable car will be your trusted steed as you prepare yourself for the winter with a Canada road trip. Let's also be honest: any Canada road trip will take you somewhere beautiful. In fact, the entire country is resplendent in the fall. That's why we are keeping the driving holiday of a reasonable (sometimes reasonably ambitious) length.
1. Algonquin Park, Ontario
Admittedly not the most original idea, but Algonquin Park is the right mix of distance from Toronto and wilderness for most city types. If you want to be able to enjoy a crazy colourful Canada fall season and be able to share it on Instagram as you go along, Algonquin Park is the destination for you. (Yes, cell signal is patchy, but it's there).
Distance from the GTA: Around 280 km; 3.5 hour drive
Great for: short weekend getaway
2. Collingwood and Tobermory, Ontario
Okay, so, this may be one of the most popular tourist jaunts from the GTA, but it's so worth the visit! The parks dotted around Georgian Bay are exceptional vantage points for watching a vast undulating fall landscape. A plethora of lake towns surrounded by a vibrant autumn scene is just something else to behold. Besides, being not too far from the city, you can get car rental in Toronto fairly last minute.
Distance from the GTA: 150-250 km, depending on how far you want to go
Great for: not having to take a day off; beautiful sunset drive to Tobermory
3. Laurentian Mountains, Quebec
Quebec is beautiful pretty much any day of the year, but there's something very special about the sugar maple leaves in autumn. Regarded as one of the most beautiful spots to see this Canada fall season (and for the best fall colours in North America), the best time to go is between late September and early October. It's a long drive too so make sure you get the best car rental in Toronto that you can trust for a road trip you remember for the right reasons.
Distance from the GTA: Around 900 km
Great for: 4 or 5 day getaway; sightseeing in Montreal on the way
4. Cape Breton, Nova Scotia
For a true Canada road trip you need to drive to Nova Scotia. There is something so special about driving from the relative hinterland to the edge of the Atlantic Ocean this time of year. It's a long drive so be prepared to swap driving duties. But Canada fall season is about the best time to experience Nova Scotia. If you go towards the end of October you'll enjoy a full palette of autumn colours, set against a mesmerizingly blue Atlantic!
Distance from the GTA: 2000 km (definitely share driving duties for this one)
Great for: a long break during the Thanksgiving Day holiday
5. Agawa Canyon, Ontario
It is hard to describe the Agawa Canyon Tour Train – a truly out-of-this-world experience. Get a car rental GTA and drive to Sault Ste. Marie (which in itself is a must-visit city). The drive is long but certainly possible in one day. Driving through the Muskokas will make it worthwhile already, but once you reach Sault Ste. Marie, your Canada road trip will bring you to the middle of the best Canada fall season Ontario has to offer. It gets better after that once you board the Agawa Canyon Tour Train and explore valleys, rivers and exquisite scenery bathed in a sea of orange.
Distance from the GTA: 700 km
Great for: a long weekend; make the most of off-season pricing
Say No to 'Car Rentals Near Me' – We Deliver to Your Door
There's nothing more important on a driving holiday than a car that lets you focus on what matters. That's why Advantage Car Rental is the best car rental in GTA. Our rates are competitive, our selection of cars will fit your needs. Most importantly, our cars are fastidiously maintained and cleaned. Call us or book today and have your car delivered to your doorstep: no more having to search for unknown 'car rentals near me'.