Honda and Toyota have been competing in the compact-crossover game ever since they launched the CR-V and RAV4 back in the 1990s. These models have managed to gain a pristine reputation over the last couple of decades, as they became two of the best-selling crossovers across Canada. In fact, they gave birth to the term 'crossover SUV'.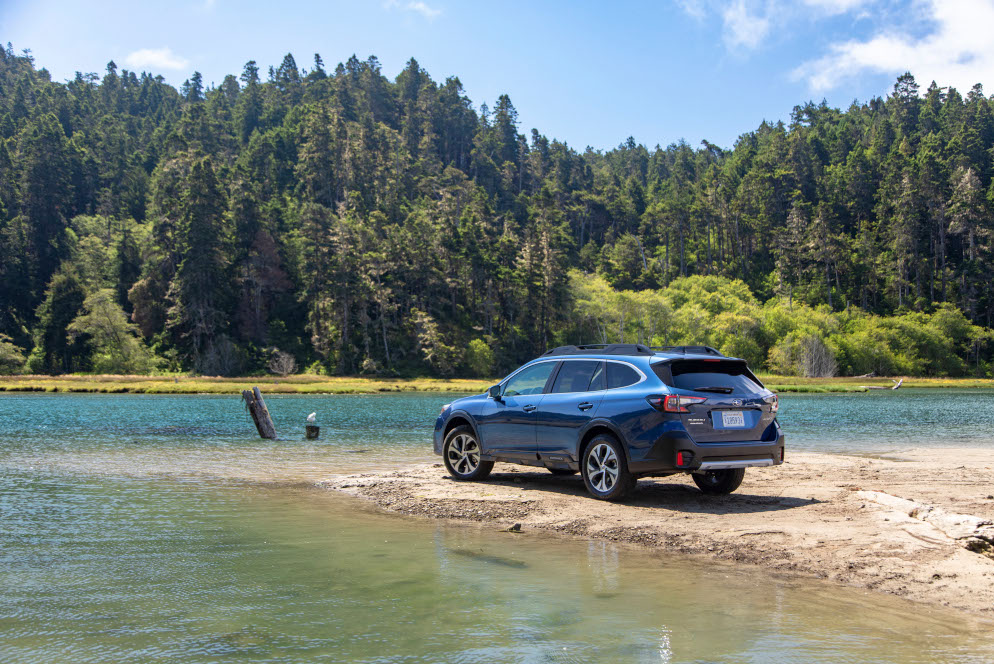 Considering their value, tremendous versatility, and fuel economy, it is no wonder that so many people swear by these crossovers. The 2019 models have already taken the world by storm, but these two competitors should make room for a new adversary because the Subaru Outback 2020 is here to win the competition for compact SUV supremacy.
What car company has the best AWD?
For years, Subaru's Symmetrical All-Wheel-Drive has proven to be a reliable, adaptable and sophisticated all-wheel drive system, especially when it comes to winter driving. The Subaru Outback 2020 is here to reinforce its longstanding reputation. This model features numerous active safety measures, two rows of seats for roomier space, and an impressively large boot. Fully redesigned, the high-end and sleek interior is also a plus that adds to the value and appeal of this vehicle. The 2020 Subaru Outback comes with remarkable off-road capabilities (sometimes Canada's roads can feel pretty off road) and an incredible well-built cabin.
More car news
Review of The Month: Honda CR-V – The Perfect Intermediate SUV For Long Drives
Know About The Vehicle Expenses Tax Deductions That Could Save You Money This Year
5 Instances Where Rental Cars Are Ideal for the Budget Oriented Millennial
Subaru basically compiled every admirable quality of their past models and took it to the next level with the 2020 Outback. To make it even more compelling you have engines to choose from. You can either work with the standard naturally aspirated engine, or opt for a turbocharged variant. This car is very reminiscent of the trusted Forester SUV, though its enhanced features make it the obvious runner for the title of the best utility AWD vehicle.
If you've been looking for a good station wagon in Canada, with a solid design, a sleek interior, and great functional features, you should definitely consider the Subaru Outback 2020. If you're still unsure about which vehicle best suits your needs, you can pop by Mississauga car rentals to get an expert's insight on the best AWD cars to take into account.
A Station Wagon in 2020?
Think about it. It's as spacious as the CR-V and RAV4. It'll be nicer to drive because it's centre of gravity is so much lower. It looks positively luxurious at the same price. And it's fuel economy will make the Honda and Toyota look like gas guzzlers.
The Subaru Outback 2020 is shaping up to a giant killer. It may not be enough to revive the station wagon in North America, but it sure is going to 'suade a lot of compact SUV and crossover buyers to the Subaru stable.
As Mississauga's most reputed car rental company, we know the value of sturdy cars that will keep you safe. Airbags, lane keeping assist and cross traffic alert are tremendously useful for saving you from those 'minor' collisions. Throw in the latest version of Android Auto and Apple CarPlay and what you have is a truly Canadian car. Handsome, practical, and rugged-yet-sophisticated.
Speak to our car rental desk in Mississauga to book a Subaru for your next journey. With the winter snow expected to come early this year, we'll keep your Outback warm and shod with winter tires.