One of the best reasons to get a rental car is to check out Ontario's farmers' markets
Get rid of the Covid-19 cobwebs at some of Ontario's most happening farmers' markets. Hosted in enclosed and open air spaces, farmers' markets in the province offer such a unique vibe and products that you just will not find at your local supermarket. In this article we are looking at the top 10 farmers' markets in Ontario you should visit in 2020. Just pick up your car rental in Markham or North York and make the most of the summer season!
Make sure you maintain physical distancing! Most markets have adapted to keep people 2 metres apart but depend on you to keep everyone safe too.
Top 10 farmer's markets in Ontario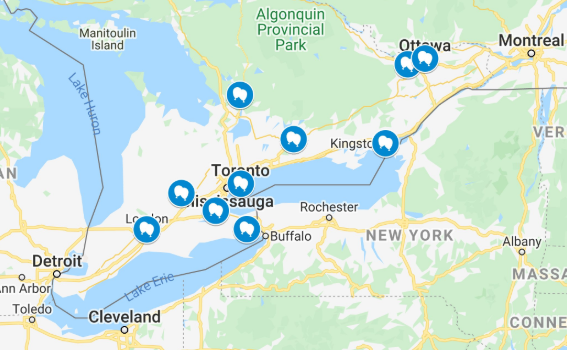 1. St. Lawrence Market – Toronto
One of Toronto's most popular markets and tourist hotspots, St. Lawrence Market has been running for over 200 years! An exceptional selection of meats and baked savouries await. On Sunday it turns into an antiques market too.
2. St. Jacob's Farmers' Market – Woolwich
Canada's largest year-round market, it is also where you see a lot of Mennonite farmers and craftspeople. Don't be surprised if you pass a horse-drawn buggy on the way. The market has a vast enclosed and open space and is a great place for fresh produce, vegetables and flowers.
3. Peterborough Farmers' Market – Peterborough
Peterborough Farmers' Market is proud of its motto, "Something to Crow About!" – and with good reason too! The market has been in existence for nearly 200 years and you will find just about every kind of local honey, maple syrup, preserves, poultry, meats, produce and vegetables.
4. Hamilton Farmers' Market – Hamilton
Another market that is nearing the 200-year-old mark, Hamilton Farmers' Market attracts over 60 vendors selling all produce, fresh catch, meat and more. Best of all, it is located in downtown Hamilton, making it easily accessible.
5. Welland Farmers' Market – Welland
Over 100 years old, Welland Farmers' Market is popular and growing! The market is a great melting pot of all that the Niagara region has to offer. Locally grown produce is a great healthy option and is well-supported by a community that likes to shop local and by visitors to the Niagara region.
6. Covent Garden Market – London
A trip to London is incomplete if you don't visit Covent Garden – even if you are in London, Ontario. Held right in the heart of London, ON, Covent Garden Market has been around since the mid-1800s and rivals St. Lawrence Market for scale and offerings! It is truly a complete day out with lots of vendors and restaurants to choose from.
7. ByWard Market – Ottawa
Home to the first BeaverTail, this neighborhood in Ottawa is also well-known for the ByWard Market. It is a unique farmer's market, with lots of restaurants and shops around. Don't go looking for a building either – the market is located in downtown Ottawa, near the Rideau Centre (George and York streets).
8. Kingston Public Market – Kingston
Established in 1801, Kingston Public Market is the oldest market in Ontario. It is located behind City Hall and is a must-visit during the spring, summer and fall months.
9. Carp Farmers' Market – Carp
Located on the outskirts of Ottawa, Carp Farmers' Market is the largest produce market in Eastern Ontario. You will find fresh produce and the usual market fare. What really set it apart are the handmade crafts that people bring from all over Ontario.
10. Gravenhurst Farmers' Market – Gravenhurst
A relative newcomer it may be but the Gravenhurst Farmers' Market draws tourists, cottage owners and residents from all over Muskoka. It's much more than just a market, with great family events running throughout the day. You can ride aboard North America's last operating steam ship too – the RMS Segwun.
Make your journey comfortable with car rental in Markham. All Advantage Car and Truck Rental vehicles are fastidiously maintained for a safe and comfortable highway journey. All our car rental desks (North York, Markham, Scarborough or anywhere else) have a new fleet of late model cars, SUVs and trucks. Make your car rental in Markham or North York even easier with our On Demand Car app.