The coronavirus outbreak (nay, pandemic) has put paid to lots of people's travel plans. Fret not, there's a lot you can do around Toronto in the spring! Just make sure you car rental in Toronto soon because that long weekend rush is only going to be worse in 2020.
Ideas for long weekends in springtime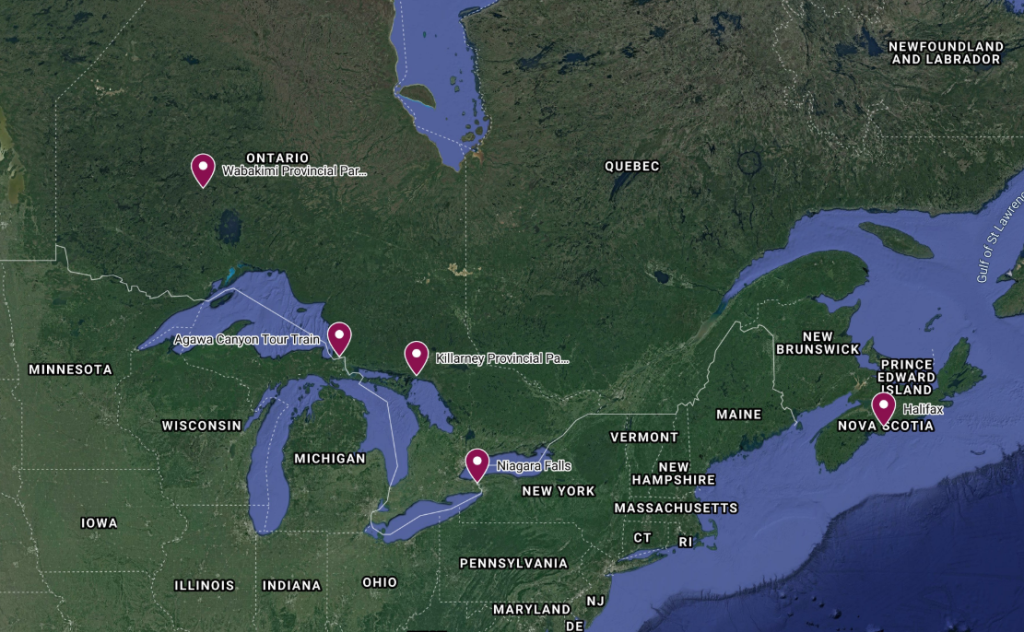 Drive to Niagara Falls
Agawa Canyon tour train
Camping in Killarney
Whale watching in Halifax
Canoeing in Wabakimi Provincial Park
What is there to do in Canada in spring?
Springtime and early summer is the hottest time to enjoy all that Canada has to offer. For our list, we've selected outdoorsy things that are near Toronto. Important if you only have a long weekend to travel around in.
Drive to the Niagara Falls
Yes, it may sound clichéd but think about it. With international travel severely restricted this year, the Falls won't be teeming with thousands of tourists. What's better than enjoying the magnificent sight of the world's largest waterfalls in relative peace. That and the queues for the Hornblower and ziplining should be shorter too.
Travel on the Agawa Canyon tour train
The Agawa Canyon tour train runs between Sault Ste. Marie to Agawa Canyon Park. And on its 150-km journey you will see unbelievably pretty scenery, jaw-dropping waterfalls and granite formations that look out of this world! The train halts for one and half hours so you can take some truly spectacular selfies too.
Camping in Killarney
Sounds like you could replace Killarney with Algonquin… almost. Killarney is just that bit further from Toronto that it dissuades beginner campers from reaching. Good thing too! Killarney Provincial Park offers some of the most incredible views…right from your tent. Campgrounds are also a little more spread out which means more privacy and quiet time. It's perfect for the May long weeend.
Whale watching in Halifax
The whale watching season kicks off in Nova Scotia in May so this is one for late-spring-early-summer. Seeing a whale for the first time is simply indescribable. Those giant ocean mammals that you have read about only in books – and Moby Dick – are just so majestic! It really gives you a sense of perspective that we share this planet with life that is so different from our own.
Canoeing in Wabakimi Provincial Park
Paddling in Wabakimi you can lose yourself… literally and figuratively. The park stretches more than 2 million miles across Ontario and has over 1000 canoe routes. It is truly a paddler's paradise. People have returned to the park may times, each time amazed by yet another mysterious lake or islet they have found.
Car rental deals in springtime
Advantage Car Rental has incredible deals running throughout spring and summer seasons. Our cheap and reliable rental cars are preferred by Toronto residents. We have all types of sedans, SUVs and pick-ups that will take you comfortably and reliably to your vacation spot. Call us to find out what weekend deals you can make the most of.